Abuser name:
fuckin' whore
Date/time:
4 am, GMT +1, 10.02.2011.
Abuser IP:
83.26.78.195
What happened:
Screenshot says it all
Server it happened:
Babo Violent Europe CTF, I belive
Couple of days ago I warned this person that his name is insulting and should be changed, this night I joined a server and got this. Now, I don't care if this is a joke or a smurf or Jesus or Chuck Norris or Optimus Prime, I've always been against any form of insults made by anyone. Btw there were couple more of insluts thrown at me, but when I went to access paint to post this one, babo crashed so it's a shame you can't see it all.
Also, an admin who will remain anonymous was present at the server, and decided to do nothing about it, and considering the server is 2.11f, he could at least mute the player.

Cinc

Quality Poster.





Age

: 26


Location

: Ston, Croatia


Clan

: >?<



Cinc. It appears that he goes on and on and on with his stupidity and lameness.
1. It was just him and I on the server when Cinc came and started to show off.
2. He put his name just before Cinc came. There wasn't anyone on the server he could offend except Cinc who is more touchy, it seems, than a virgin teen.
3. Ye he was a smurf and ye with Cincs behaviour, his replies are justified. I would have said one or two but I can't be bothered to talk to croatian boy.
4. As usual Cinc tells only what is convenient for him. I did nothing because there was no need for any measure.
It appears Cinc has nothing better to do than be malevolent. His malevolence doesn't stop, I guess in the tournaments he participates, where he has something to gain, even fraudulent, but he does it for sport.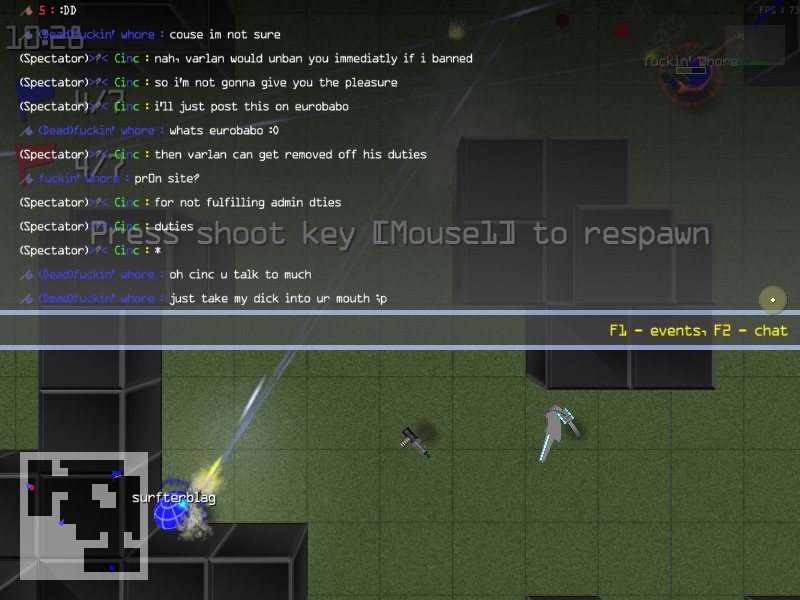 p.s.
What happened? What happened is that he was asked if he's a faggot. The outcome? He couldn't say no. How could he if you think of it a bit?
My suggestion is to delete this thread since it's useless. It's just about the struggle of one dude trying to fight off homosexuality. Just like in Top Gun. Cinc aka Maverik
http://www.thatvideosite.com/video/top_gun_according_to_tarantino

cmnndr

Quality Poster.






Like i said, i warned that person COUPLE OF DAYS AGO, and that's probably when he decided to pick on me. When I entered the server, I just said "admin wars!" because varlan used nukeall, and got insulted immediately.

Varlan, stop protecting your friend and do something useful, like, stare in the sun.

Cinc

Quality Poster.





Age

: 26


Location

: Ston, Croatia


Clan

: >?<



I say ban all 3 yokels, 3 problems solved: no bad language, no drama and no spam on the forum!

_________________

---
Permissions in this forum:
You
cannot
reply to topics in this forum